BRAZILIAN JIU-JITSU FOR YOUR KIDS AT EMERGE MARTIAL ARTS ACADEMY!
Get ready to explore the world of Brazilian Jiu Jitsu with your children at Emerge Martial Arts Academy in Mascot. Our tailored program, designed for ages 4 to 15, goes beyond martial arts – it's about nurturing life skills in a safe and enjoyable setting.
Build Unstoppable Confidence: Through Brazilian Jiu Jitsu, your child will learn to believe in themselves. Our expert coaches guide them, step by step, as they grow stronger, both mentally and physically.
Cultivate Respect and Social Skills: Respect is at the core of our teachings. Your child will develop respect for themselves and others while making friends and practicing teamwork in our supportive community.
Practical Skills for Life: Beyond self-defence, Brazilian Jiu Jitsu imparts valuable life skills like problem-solving, focus, and resilience. These skills empower your child to excel in various aspects of their life.
Safe, Supportive Environment: We understand your concerns about safety. Rest assured, our experienced coaches prioritize your child's well-being, ensuring a secure and controlled learning environment.
At Emerge Martial Arts Academy, we're not just about martial arts – we're about growth, respect, and fun. Join us and witness your child flourish through the art of Brazilian Jiu Jitsu.
Shape your child's future with us today!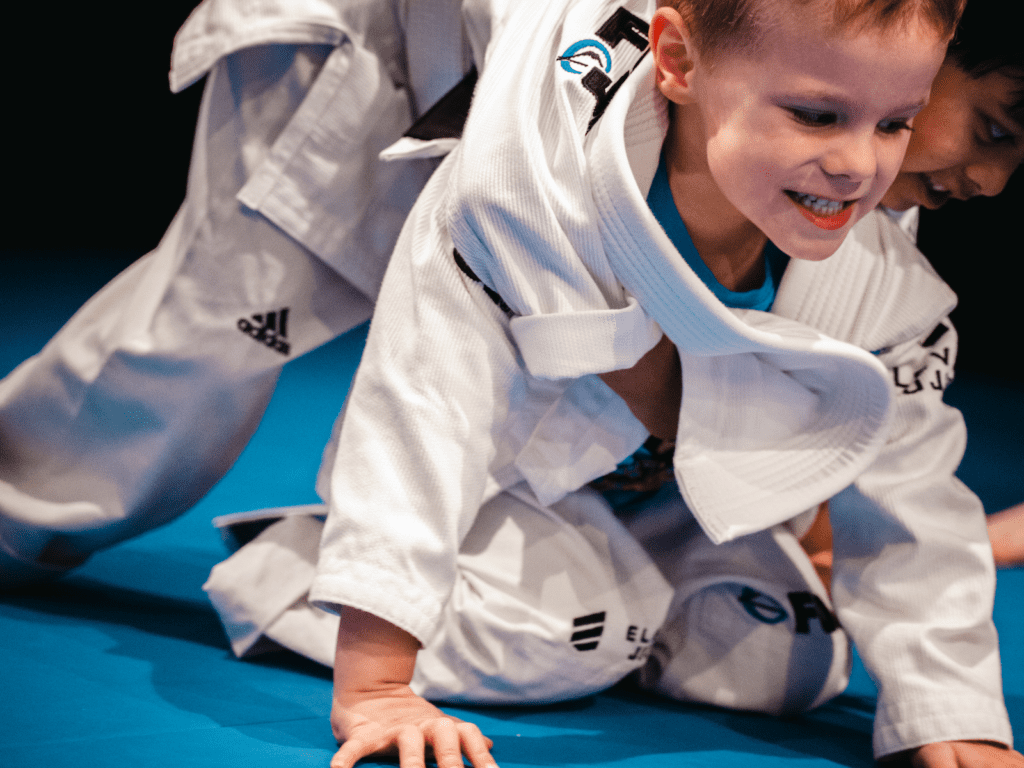 Our tailored programs are for ages 4 to 15. The classes are divided into two age groups: 4-7 years and 8-15 years. Both classes are open to all levels, including beginners.
Age-Focused Classes:
4 – 7 Years Mini Ninjas: Fundamental movements and teamwork are emphasized through interactive games and basic techniques.

8 – 15 Years Ninjas: Delve deeper into Brazilian Jiu-Jitsu techniques while maintaining a supportive environment.
Whether your child is new to martial arts or experienced, our classes are designed to accommodate every level of proficiency.
After the trial, the Academies traditional Brazilian Jiu-Jitsu uniform (gi or kimono) is mandatory for all kids. This instils a sense of unity and prepares them for a fulfilling journey.
Join us in shaping not only skilled practitioners but also confident, respectful individuals. Enrol your child in our Kids Brazilian Jiu-Jitsu classes today!

Elevating Young Achievers: Our Kids Brazilian Jiu-Jitsu Grading
Our kids' Brazilian Jiu-Jitsu program follows the esteemed IBJJF grading system, renowned worldwide. Monthly gradings ensure consistent advancement while upholding skill quality. Our approach prioritizes understanding over speed, assuring that each belt reflects true expertise.
Join us in shaping skilled, well-rounded individuals.

Example of monthly degree gradings: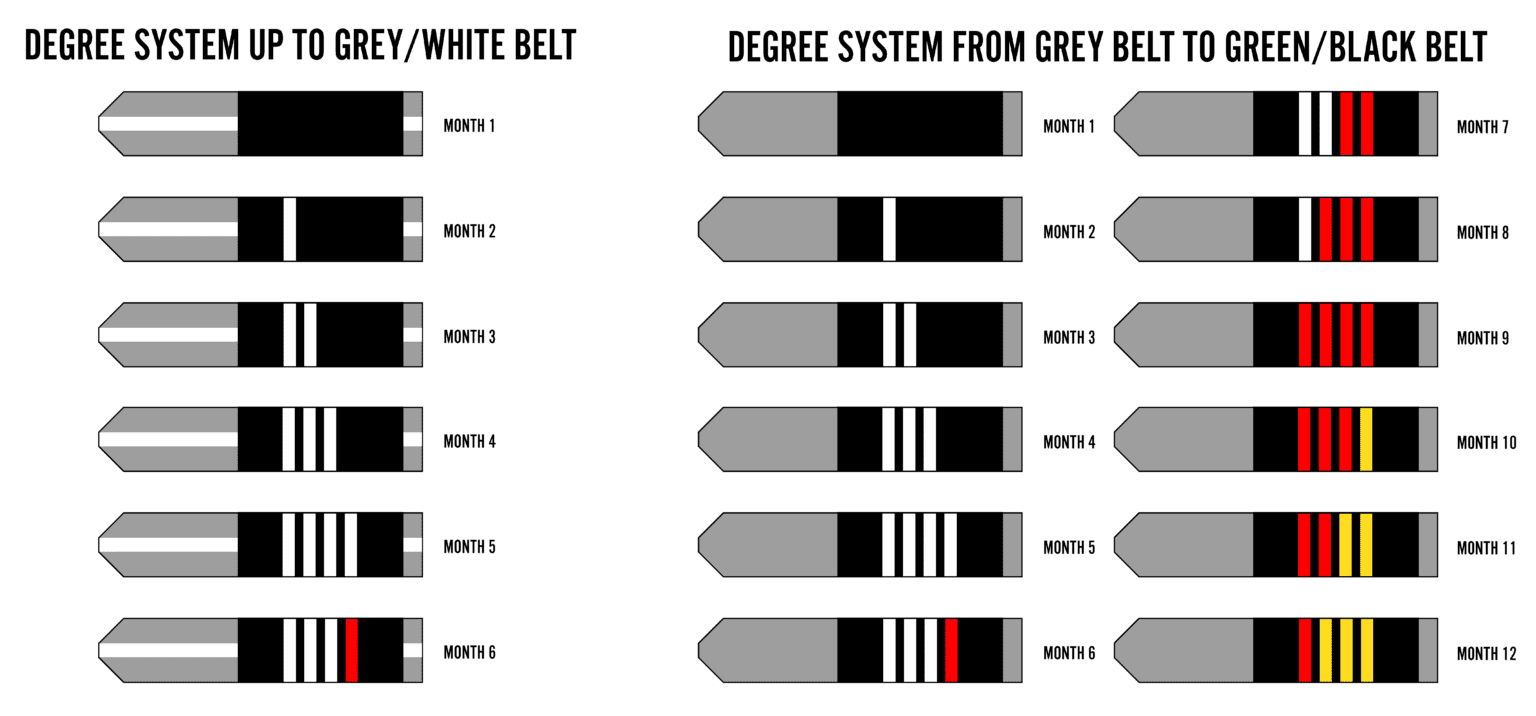 AS AN ACADEMY THAT ADOPTS THE DEGREE GRADUATION EVERY MONTH, THE IBJJF SUGGESTS 11 DEGREES FOR EACH BELT. 
THE 12TH DEGREE WILL BE GRADUATING THE ATHLETE TO THE NEXT BELT COLOUR. THE FIRST FOUR DEGREES ARE WHITE,
THE NEXT FOUR WILL BE RED AND THE LAST THREE WILL BE THE COLOUR OF THE NEXT BELT, AS SHOWN.
UNVEILING THE WORLD OF BRAZILIAN JIU-JITSU
Welcome to our academy! Your child's first visit is a gateway to an incredible journey in Brazilian Jiu-Jitsu.
Friendly Introduction:
As they step in, our team will provide a warm tour and introduce them to instructors and fellow students, setting a welcoming tone.
Instant Engagement:
The adventure begins right away. With gi on, your child dives into a blend of movement, games, and essential techniques in their first class.
Accessible Opportunities:
We proudly accept Active Kids Vouchers, available here, covering uniforms and membership fees, making it accessible for all.  
Confidence-Building Trial:
Their first visit includes a free trial, ensuring a confident start. We're sure they'll embrace this journey with excitement.

Join us in shaping a confident, skilled future. Enrol your child today to explore the world of Brazilian Jiu-Jitsu.

For enrolment, visit our Membership page.
SCHEDULE YOUR LITTLE NINJA FREE TRIAL NOW